Caravan Tourism in Uttarakhand 
Caravan tourism is getting popular worldwide, so how can Uttarakhand remain behind in this? The main reason for its popularity is Caravan tourism is very affordable. With a view to encouraging tourism in the state, more attention is being paid to it. Caravan tourism includes some vehicles such as campervans, motor homes, etc.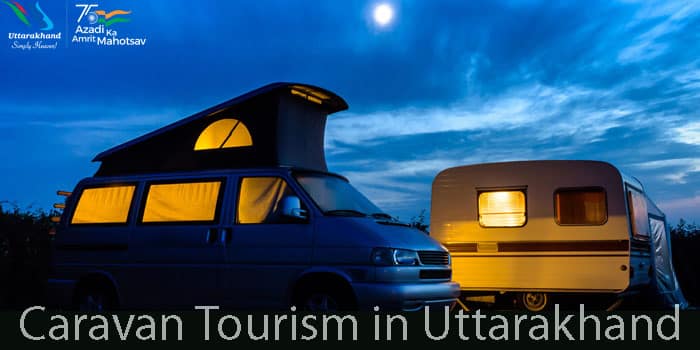 If we see Uttarakhand from the perspective of infrastructure so this is not a developed state. Still, it has a lot of places to explore especially remote areas in Uttarakhand that are very beautiful, comfortable, and suitable for Caravan tourism. 
In such a situation, the tourism department of Uttarakhand has chosen caravan tourism as an alternative.in this tourists have to carry a TV, GPRS, navigation system, washroom, pantry, coffee maker, microwave, etc with his/herself to make their tour memorable and gives a nice experience.
Sitting in the caravan, tourists will experience a home-like environment, tourists can stay in remote areas, forests, and on the banks of rivers. Together, they will be able to enjoy rural and mountain life very closely.
the biggest advantage of a Caravan is that the tourist will not have to depend on the hotel or resort for food and accommodation during his journey.
According to the state, promoting caravan tourism will also boost self-employment. Under the tourism policy of the state government, the youth can buy caravans under MSME. For this, a fixed grant is also being given by the government. You will also get the benefit of subsidy under MSME.
In the state of Uttarakhand, the caravan travel limit will be 8 days, in which tourists can roam in tourist places covering a distance of more than 900 km. However, the caravan travel limit varies from country to country.
If you want to enjoy caravan tourism in Uttarakhand and want to hire a caravan so you will get a cab on rent at cab booking online in Uttarakhand.