Cab Booking in Rudrapur
Do you need a cab to rent in Rudrapur? It's a digital aura and you do not need to go to a taxi stand or get in touch with a broker for booking a taxi just type on google and you will get the most relevant results.
When you search for a cab booking service and come across Cab booking Online that means it's the end of your all worries related to cab booking services in Uttarakhand.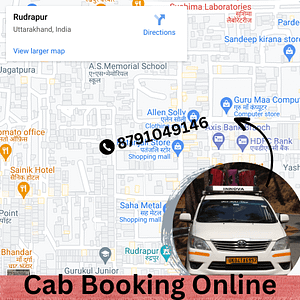 Rudrapur is the Manchester of Uttarakhand because of it has sidcul and in this around 570 companies are established. Apart from this Rudarpur connects Uttar Pradesh and Uttarakhand this is like Gateway when you come from Uttar Pradesh.
So when people come to Rudrapur so they plan to visit other parts of Uttarakhand and in this cab booking online comes to the front line and offers them cabs on rent.
Rudrapur is known for its rich cultural heritage and big Tata jungle, lot of people opt for cabs to reach popular attractions like temples, hill stations, lake city waterfalls, trekking trails, etc.
Starting your visit from Rudrapur helps you to explore Uttarakhand in a proper way like if you start from Rudrapur so you will explore Tarai and hilly both parts of Uttarakhand.
Cab Booking at Pantnagar Airport 
Pantnagar airport is located in Rudrapur and that makes it the gateway to the Kumaon subdivision for airways. So people often search for an airport to Haldwani or an airport to Nainital or any other hill station service.
Local Taxi Service in Rudrapur
At cab booking online we also offer local and eco-friendly taxi services for local tours and a very reasonable amount, we are one of the eco-tour services and this makes us very different than others. 
If you want a local tour or you have to go to local areas so we are ready for that as well just get in touch with our support and they will help you.